The Caleva Spheronizer 700
A Production Spheronizer
for Spheronizing Pharmaceutical Compounds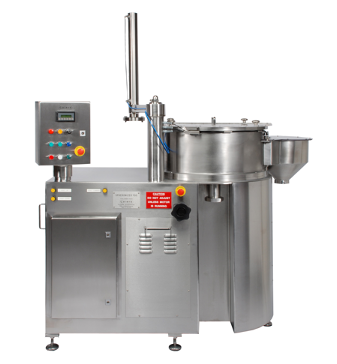 The Spheronizer 700 machines are designed to work alongside the Caleva 35 Screen Extruder or Caleva 100 Gear Extruder but can be designed to complement your existing or planned operations. Modifications can be incorporated at the design stage to be compatible with most extrusion and loading systems.
Large spheronizers from Caleva can be designed for continuous bulk production applications. The combined extruder / spheronizer units provides a single or twin drum spheronizing facility that can be programmed to complete automatically the spheronization (pelletization) of a measured product batch. These machines can be designed for full integration into continuous or bulk batch production with automatic control.
Designed for batch bulk production applications, the unit provides a single drum spheronizing facility that can be programmed to complete fully automatically, the spheronization of a measured product batch. Optional accessories include full PLC control, automated batch weighing/loading, drum heating/cooling, and inverter drive for fully automatic speed control. Specifications allow the Spheronizer 700 and 700 Twin to run continually for 24 hours per day. A pneumatic hoist is built into the units to enable easy lifting of the spheronizing discs for cleaning and maintenance. The operator is protected from all moving parts by a safety interlocks.
Typical batch weight can vary from 5kg to 25kg. Productivity per hour will vary depending on the required process time which, in turn, will depend on the characteristics of the material and the required quality of the spheroids that are produced.
The operator is protected from all moving parts by safety interlocks and is designed in accordance with GMP guidelines.
Features:
Designed for the production of smooth, regular spheroids.
All large production scale spheronizers from Caleva are custom designed to your particular application.
Options include full automation capabilities, utilizing 21 CFR Part 11 compliant software and GAMP4 documentation.
Typical batch size from 5kg to 25kg
Production can be greater than 300kg per hour depending on product
Contact parts in 316 stainless steel and Perspex, Cabinet in 304 Stainless Steel
GMP design
Special features to meet individual requirements
Options:
There are a number of options available which can be supplied according to your requirements.Please discuss with us so we can determine which options would be suitable for your application.
Fines Air system for dusty products, to eliminate dust falling between the disc and the drum.
Alternative types of Spheronizing disks (cross hatch and radial patterns).
FDA approved anti-stick coatings for drums and disks.
Loading hopper above drum with dischage butterfly interlinked with machine controls.
Loading hopper mounted on load cells providing measured weight into Spheronizer drum.
Drum heating/cooling jacket.
PLC controls and monitoring.
Explosion-proof design.
---
---
Copyright © 2008 AC Compacting LLC