The Caleva Multi Bowl Spheronizer 250
A Laboratory Bench Top Spheronizer
for Spheronizing Pharmaceutical Compounds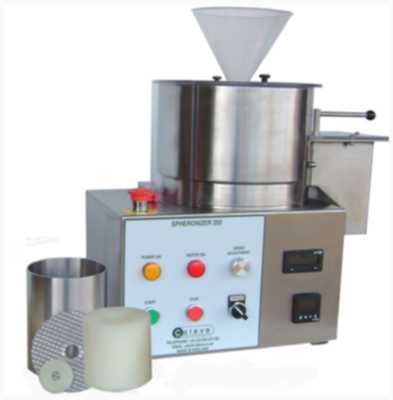 The Caleva Multi-Bowl Spheronizer has four different interchangeable spheronizer bowls which can be used on the same base to spheronize a wide range of batch sizes with a single apparatus. By using the appropriate bowls, it may be possible to process batches ranging in size from 1g to 1kg.
Spheronization is a batch process, and proper loading of the spheronizer drum is essential. Too little material, or too much material, can cause undesired agglomeration, excessive fines and will likely result in poor quality spheroids. The availability of different sized drums assures the formulator that she will have the proper sized drum to successfully process a given batch of material.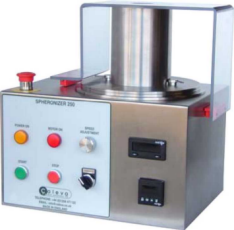 With 120mm Bowl and Guard Fitted
With a small diameter bowl the scientist can Work with small samples when product is scarce or costly. Then, by simply switching to a larger bowl, the formulator will have the ability to spheronize larger samples when when they become available, or when clinical trial quantities are required. The Multi-Bowl Spheronizer gives pharmaceutical R&D departments considerable flexibility when it comes to purchasing components: Have what you need when you need it; Upgrade in stages according to need.
Disks and inserts made of 316 stainless steel or FDA approved plastic are inserted into the 120mm bowl to acheive effective spheronization diameters of 60mm and 85mm.
The Multi-Bowl Spheronizer is designed for bench top use and is suitable for laboratory research and small batch production. It is a compact machine using limited amount of valuable bench space while at the same time is a powerful tool for both R&D and small scale production.
It has a simple operating structure. The front panel has "Start", "Stop" and "Emergency stop" buttons along with indicators for "Power on"and "Motor on." An electronic disc speed control is used for changing disc speed during spheronization. A digital readout gives the disc speed in RPM. The operator is protected from all moving parts by magnetic safety interlocks.
A drum heating/cooling jacket is included as standard on the 250mm bowl (optional for 120mm bowl) to allow processes to run at controlled temperatures. An optional water heating/cooling recirculating system can be suppled for more precise temperature control.
Purchase
the bowls as you need them!
The 250mm bowl is constructed of 316 stainless steel. The 60 and 85mm inserts are available in 316 stainless steel or FDA approved plastic.
The Multi-Bowl Spheronizer has the the ideal capacity for scale up studies. It is robust in construction and will give you many years of trouble free use.
An optional data acquisition package is availablw which can be used to monitor and record operating parameters such as product temperature, disk speed and power consumption.
Features:
Bench-top spheronizer for laboratory use designed for experimental work using small quantities of product, or small scale production using a larger bowl.
Select the most appropriate sized bowl for the batch you are spheronizing.
It will easily fit on your bench-top
Possibility of Spheronizing batches as large as 1kg down to 1g.
Great for experimental work when only small amounts of material is available.
Can be used for small-scale clinical trial production with 250mm bowl.
Buy components as you need them.
Easy clean design features
Contact parts in 316 stainless steel and FDA approved plastics.
Cabinet in 304 stainless steel.
Designed for the pharmaceutical industry.
60mm and 85mm diameter inserts made of 316 stainless steel and FDA approved plastics are available.
Other types of disks, such as discs with a "radial " pattern (for a gentler spheronizing action) and disks with special coatings are available.
Applications in the pharmaceutical, chemical, agricultural, and a wide variety of other applications.
The Multi-Bowl Spheronizer is designed to work in conjunction with the Caleva Screen Extruder 20 and the Caleva Mini-Screw Extruder.
---
---
Copyright © 2008 AC Compacting LLC