The Caleva Mini Screw Extruder
A Bench Top Laboratory Unit
Designed for Very Small Quanitites of Pharmaceutical Compounds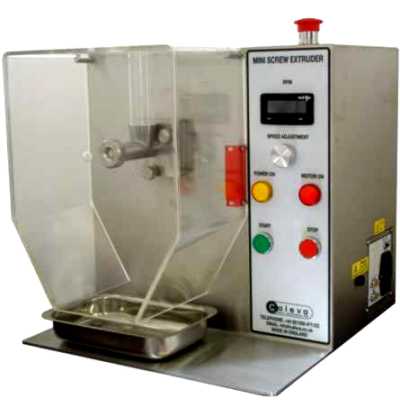 The Caleva Mini Screw Extruder is a small bench top screw type extruder which is designed to allow trials and product development with small quantities of material. The smallest batch size that can be extruded is about 5g in normal use. This bench top apparatus is suitable for laboratory research and very small batch production. The Caleva Mini Screw Extruder is an ideal tool for extruding very small quantities of scarce, expensive or specialized materials.
This unit can be used in conjunction with the Caleva Multi Bowl Spheronizer to make spheroids.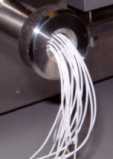 The Mini Screw Extruder has a simple operating structure and a small footprint to fit easily on the bench top.
The Mini Screw Extruder was originally designed as an option for the Caleva Mixer Torque Rheometer (MTR) and is now available as a stand alone apparatus.
The material to be extruded is manually loaded directly into the extrusion chamber. The material is then forced through the extrusion dies by a by screw rotating inside a fluted barrel. The extruded material (extrudate) falls into the collecting tray located underneath the extruder dies. A clear cover with safety interlock gives the operator a visual check of operation during extrusion. Extruder speed is controlled by a potentiometer with a built- in digital tachometer showing extruder speed in RPM.
Although the Mini Screw Extruder can be used for small scale production, it is designed to be a research and development tool so output is generally not an issue. Output is dependent on the properties of the material being extruded and the die hole size being used. Generally, the effective minimum load requirement is about 5g.
Dies with different hole sizes and styles can be provided to complement any development program. The machine is supplied with dies drilled with 1mm round holes, and additional dies with holes ranging in size from 0.7mm to 2.00mm in 0.1mm increments, can also be supplied.
The optional data acquisition package can be used to monitor and record operating parameters such as product temperature (at the extruder die), extruder speed and power consumption.
A heating/cooling water jacket for the extruder barrel is also available. This can be supplied with or without the heating/cooling system.
Features:
Designed for R&D studies or when product is expensive or scarce.
For experimental work using small quantities of product.
Standard die with 1mm apertures. Other sizes available.
Minimum wastage of valuable or scarce product.
Can be quickly dismantled for easy cleaning.
Contact parts are 316 stainless steel and food grade plastic.
Cabinet in 304 stainless steel.
Accommodates optional data acquisition package.
Can be quickly dismantled for easy cleaning.
Ideal extruder to use with the Caleva Multi Bowl Spheronizer.
Options:
Supplied with dies drilled with 1mm holes. Other sizes and styles are available.
Heating/Cooling water jacket. With or without heating/cooling/circulation system.
Data Acquisition system.
---
---
Copyright © 2008 AC Compacting LLC