The Caleva Extruder 35
A Production Screen Extruder
for Extruding Pharmaceutical Compounds Prior to Spheronization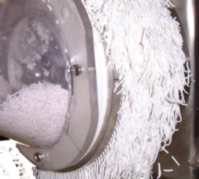 Extrudate
The Caleva Pharma Extruder 35 is designed for intensive pharmaceutical production use but it is suitable for small, pilot-scale development applications as well as process development applications.
The Caleva Extruder 35 is a screen type extruder designed to impart very little work to the product as it is processed. This reduces problems caused by overheating or drying out of the material, and is therefore an ideal extruder for pharma extrusion.
The Extruder 35 has a simple operating structure and is easily transportable on its own lockable wheels to allow work to be done in different areas of the site.
The Extruder 35 is easy to dismantle and clean. It uses a limited amount of floor space but can be a powerful work horse for production.
The diameter of spheroids produced is largely determined by the diameter of the extrudate. The apparatus is supplied with a standard extrusion screen with 1 mm holes but additional screens of different aperture diameters can be supplied on request.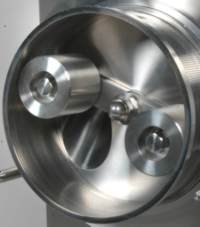 Detail of Screen
and Rollers
The Extruder 35 ideal for work where material is costly and/or where production batches are a few hundred kilos. A convenient working batch size will depend on the characteristics of the product being extruded. Batch sizes can range from very small quantities (from about 0.4kg) to larger batches yielding a comfortable working rate of up to 200kg/hour. The achievable throughput is always dependent on the properties of the material being extruded and thus cannot be guaranteed.
The working capacity is suited to the Caleva production Spheronizer 380 and Spheronizer 500.
Features:
A flexible floor standing pharmaceutical production machine that can easily be moved. Allows flexibility for both development and production.
Extrusion mechanism interchangeable with the bench top Extruder 20.
Allows confidence in pharma process scale-up
Easy to dismantle and clear allowing efficient and flexible use. A cost effective solution for your various extrusion needs.
Interchangeable screen sizes for the production of extrudate with different diameters.
Designed for laboratory and production use
All contact parts in 316 stainless steel, Perspex, HDPE
Cabinet in brushed 304 stainless steel
All product contact parts are easily removed for rapid cleaning
GMP design
Simple control structure requiring low operator training
Screens with apertures of 1.5 mm, 2.5mm and customer-specific apertures available
---
---
Copyright © 2008 AC Compacting LLC