The Caleva Extruder 20
A Bench Top Laboratory Unit
Designed for Small Quanitites of Pharmaceutical Compounds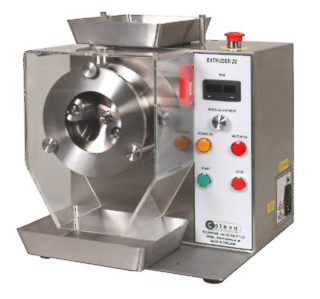 The Caleva Model 20 Extruder is a benchtop screen extruder with a lot of extra capabilities.
A laboratory bench top screen (sometimes referred to as a "basket type") extruder designed for pharmaceutical R&D process development work in the laboratory. It is designed and built so that it will replicate production extrusion on the laboratory bench top. Extruder screens are identical with production machines and scale up problems can be minimized.
The unique Caleva system of roller extruders is designed to impart very little work to the product as it is processed. This reduces problems caused by overheating or drying out of the material.
Screens of different apertures and heights can be supplied to complement any development program. The diameter of spheroids produced is largely determined by the diameter of the extrudate.
The Extruder 20 has a simple operating structure and a small footprint to fit easily on the bench top. Product recovery (useful extrudate produced as a % of material added to the extruder) is very high and there are few dead spaces where material can collect. The achievable throughput is dependent on the properties of the material being extruded and the screen size used. The effective minimum load requirement is about 30g. Although the Extruder 20 is not designed as a production extruder for continuous use, some materials have been extruded at rates up to 25kg per hour.
Features:
Bench top extruder for laboratory use
Designed for experimental work using small quantities of product
Standard screen 1mm aperture. Other sizes available
All contact parts in 316 stainless steel, PTFE or HDPE
Cabinet in 304 stainless steel
Can be quickly dismantled for easy cleaning
Ideal extruder to use with the Caleva Multi Bowl Spheronizer
---
---
Copyright © 2008 AC Compacting LLC